My Blog
Posts for tag: nutrition
By Christopher Couri, DDS, MS
November 06, 2018
Although energy and sports drinks have different purposes, they have one thing in common: they often contain added citric and other acids to improve taste and prolong shelf life. Their high acid content can harm tooth enamel.
Although enamel is the strongest substance in the body, acid can dissolve its mineral content. And although saliva neutralizes acid after eating or drinking and helps restore lost minerals to the enamel, it may not be able to keep up if the mouth remains acidic for a prolonged period of time.
That could happen with both beverage types. While energy drinks have higher acid levels than sports drinks, both are high compared with other beverages.
A recent laboratory experiment studied the two beverages' effect on tooth enamel. The researchers submerged samples of enamel in six different beverage brands (three from each category) for fifteen minutes, and then in artificial saliva for two hours to simulate mouth conditions. They repeated this cycle four times a day for five days.
At the end of the experiment the enamel in the energy drinks lost on average 3.1 % of their structure, while the sports drink samples lost 1.5%. Although energy drinks appeared more destructive, the acid in both beverages caused enamel damage. Although there are other factors to consider in real life, the experiment results do raise concerns about both beverages' effect on dental health.
You can, however, minimize the potential harm to your enamel from energy or sports drinks. First, try other beverage choices lower in acid; water, for example, is a natural hydrator and neutral in pH. Try to only drink energy or sports beverages at mealtimes when your saliva is most active. And after drinking, rinse your mouth out with water to dilute any remaining acid.
And although it sounds counterintuitive, wait about an hour to brush your teeth after drinking one of these beverages. Your enamel can be in a softened state before saliva can re-mineralize it, so brushing earlier could remove tiny amounts of enamel minerals.
Taking these steps with energy or sports beverages could help you reduce the chances for enamel erosion. Doing so may help you avoid unnecessary damage to your teeth and overall dental health.
If you would like more information on the effect of sports and energy drinks on dental health, please contact us or schedule an appointment for a consultation. You can also learn more about this topic by reading the Dear Doctor magazine article "Think Before You Drink."
By Christopher Couri, DDS, MS
September 07, 2018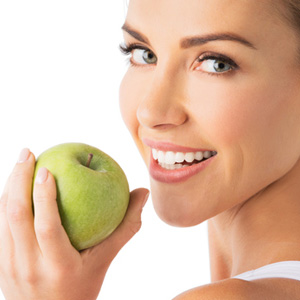 If you're brushing and flossing daily, as well as seeing your dentist at least every six months, you're doing the top things needed to maintain your dental health. But all your hygiene efforts could be undermined if you're not eating a dental-friendly diet. Simply put, there are foods that protect and promote dental health and those that increase your risk of dental disease.
Diets in the latter category are typically high in added sugar and low in natural food fiber. The largest sources of these are processed sugars from sugar cane or beets and high fructose corn syrup. With just a little knowledgeable label reading, you can find sugar and its various aliases added to thousands of processed food items including pastries, candies, sodas and energy drinks.
Heavy consumption of processed sugars also contributes to dental disease. Disease-causing bacteria thrive on sugar as a food source, which fuels both their growth and their production of oral acid. Elevated acid levels can dissolve the minerals in tooth enamel faster than saliva can keep up. Softened enamel opens the door to tooth decay, while increased bacterial growth can lead to periodontal (gum) disease.
A diet, however, low in added sugar and high in fiber can have the opposite effect. Although fresh fruits and vegetables contain natural sugars, they also have indigestible parts called fiber that slow the digestion of any sugars and allow the body to more efficiently process them.  With the higher quantity of vitamins and minerals found in unprocessed foods, the overall effect of this diet is a decrease in your risk for dental disease.
Speaking of dental-friendly foods, we should also give honorable mentions to certain dairy items like cheese and milk that stimulate saliva production and are rich in calcium needed for tooth strength. Another beneficial category is both black and green tea, which contain antioxidants to fight disease and fluoride to strengthen enamel.
Adopting a low-sugar/high-fiber diet can have a profound impact on your overall health. Over time, you'll also reap dental health rewards with stronger teeth and gums and a lower risk of tooth decay and gum disease.
If you would like more information on diet and oral health, please contact us or schedule an appointment for a consultation. You can also learn more about this topic by reading the Dear Doctor magazine article "Nutrition & Oral Health."
By Christopher Couri, DDS, MS
July 23, 2016
"The Freshman 15" is a popular way of referring to the phenomenon of new college students gaining weight during their freshman year (although the average is less than fifteen pounds). According to research, college students gain weight mainly due to an unhealthy diet and lack of exercise.
If you're experiencing this as a college student, you should also know poor diet and lifestyle choices harm your teeth and gums as well. If you don't want to encounter major dental problems, then you need to make some changes beginning with the same cause for your weight gain: what you eat and drink.
Like the rest of your body, your teeth and gums have the best chance for being healthy when you're eating a balanced, nutritional diet low in added sugar. And it's not just mealtime: constant snacking on sweets not only loads on the calories, it also feeds disease-causing oral bacteria. Sipping on acidic beverages like sodas, sports or energy drinks also increases the levels of acid that can erode tooth enamel.
Some lifestyle habits can also affect oral health. Using tobacco (smoked or smokeless) inhibits your mouth's natural healing properties and makes you more susceptible to dental disease. While it may be cool to get piercings in your lips, cheeks or tongue, the hardware can cause gum recession, chipped teeth and soft tissue cuts susceptible to infection. And unsafe sexual practices increase your risk for contracting the human papilloma virus (HPV16) that's been linked with oral cancer, among other serious health problems.
Last but not least, how you regularly care for your teeth and gums can make the biggest difference of all. You should brush and floss your teeth ideally twice a day to clean away plaque, a thin film of disease-causing bacteria and food particles. And twice-a-year dental cleanings and checkups will round out your prevention efforts against tooth decay or periodontal (gum) disease.
Making your own choices is a rite of passage into adulthood. Making good choices for your teeth and gums will help ensure they remain healthy for a long time to come.
If you would like more information on maintaining dental health during the college years, please contact us or schedule an appointment for a consultation. You can also learn more about this topic by reading the Dear Doctor magazine article "10 Health Tips for College Students."